Thailand Hotel and Resort Reservation_Thailand Hotel and Resort Reservation
About Hua Hin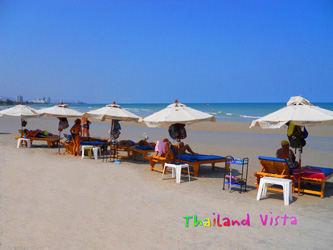 Hua Hin, literally meaning stone head in Thai, is a district of Prachuap Khiri Khan province. With an area of 83.63 square kilometers, it connects Cha-Am district of Petchaburi province to the north, gulf of Thailand to the east, Myanmar (Burma) to the west and Pranburi district of Prachuap Khiri Khan province to the south.
As Thailand's first and oldest beach resort, Hua Hin has a superb location of beautiful curving bays, steep mountain outcrops, white sand beaches and clean seawater. Besides swimming, sunbathing, and snorkeling, it is a place supporting attractions and activities such as golf, spa, Thai massage, shopping, seafood, pony riding, elephant riding, trekking on national park and caves, etc.
Many hotels and resorts with spas and golf courses are located in Hua Hin, where is increasingly recognised as one of Thailand 's premiere golfing destination. Between Hua Hin and Prachuap Khiri Khan's city is Pranburi with many boutique hotels and resorts, Pranburi National Park, Manao Bay, Khao Sam Roi Yot National Park with soaring peaks, numerous caves and exotic bird lives.
Due to the climate, natural surroundings and inexpensive cost of living, Hua Hin is still a popular resort town for tourists, especially foreigners, who come for not only travelling and leisure but also living after their retirement.
Recommend Hua Hin Hotels: