Thailand Hotel and Resort Reservation_Thailand Hotel and Resort Reservation
Hua Hin History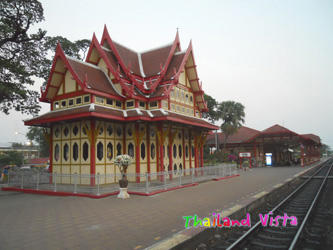 Hua Hin is renowned as the oldest beach resort or royal city beach resort in Thailand. Hua Hin, originally known as Ban Samoe Rieng or Ban Laem Hin, was a quiet fishing village only.
In 1909, Hua Hin was found by Henry Gittins, an English engineer, who made a survey for Southern rail route project in the reign of King Rama V. Later, the Hua Hin railway station was built up as part of the Southern Railway in the reign of Rama VI. This resulted in making Hua Hin stand out from many quiet fishing villages. In addition, the construction of a Summer Palace of King Rama VII, called Wang Klai Kang Won, totally turned the village into a resort town for royal familiy and people in high society. Even today, the Royal Family continues to reside at the Palace for part of the year.
Til now, Hua Hin is still a famous seaside resort with white sand beach and tranquil atmosphere. This has continued to attract tourists both Thais and foreigners who come for travelling, leisure and even stay after retirement.